An emotional Sky Brown broke down in tears after becoming Great Britain's youngest Olympic medal winner of all time.
Aged 13 years and 28 days, Brown produced a composed final run to finish third in the women's park skateboarding final and claim bronze at the Tokyo Games.
"It was a super sick final," she told BBC Sport. "All the girls were ripping it, it was insane.
"This is incredible – it feels unreal! I'm so happy to be here – I'm blessed.
"I was definitely bumped. I fell twice, that made the last run feel even better."
Brown replaces Sarah Hardcastle as Britain's youngest summer Games medallist – the swimmer was aged 15 years and 113 days when she won silver and bronze in Los Angeles at the 1984 Olympics.
Japan's Sakura Yosozumi, 19, won gold with a best score of 60.09 points, while 12-year-old compatriot Kokona Hiraki claimed silver with 59.04 as the sport made its Olympic debut with athletes performing tricks in a huge concrete bowl.
The eight skateboarders in the final, who had an average age of 17, showed incredible camaraderie, cheering every trick and consoling each other after each fall.
Brown, who has also broken Margery Hinton's 93-year-old record to become the youngest athlete to represent Team GB at a summer Games, finished second in qualifying.
She made mistakes in the first two of her three runs in the final and was fourth going into her last effort.
However, she showed great maturity to nail her final run, landing a kickflip indy – the trick that caused her to fall in her first two attempts – to score 56.47.
She threw her arms in the air and sunk to her knees after completing a clean run and her father Stu was overcome with emotion, but they still faced a nervous wait to find out if she'd done enough to take home a historic medal with one athlete still to go.
And when Japan's world number one and pre-competition favourite Misugu Okamoto fell, confirming bronze for Brown, she couldn't hold back the tears as she hugged her rivals before being lifted in the air by her father.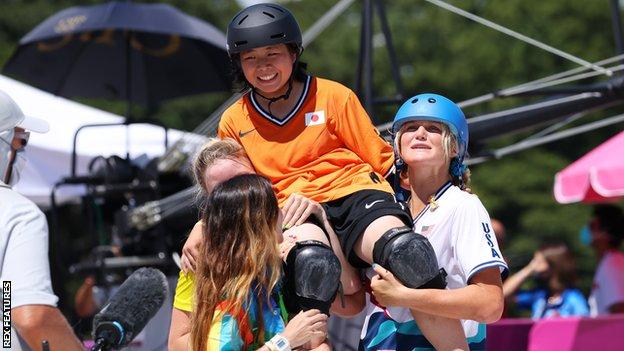 Even Brown's face mask could not hide her huge smile as she received her bronze medal on the podium at the Ariake Sports Park.
When asked what she would be doing next, Brown replied: "Hang out with some friends, and party!"
The result is even more impressive given Brown is "lucky to be alive" after suffering a serious injury in May last year that would have kept her out of the Olympics had they taken place as scheduled in 2020.
She crashed between two ramps while attempting a jump in training, fracturing her skull, breaking her left arm and wrist and suffering lacerations to her heart and lungs.
Brown also tumbled before her Olympic qualifier, breaking her arm, but came first while wearing a protective cast.
Meet the Browns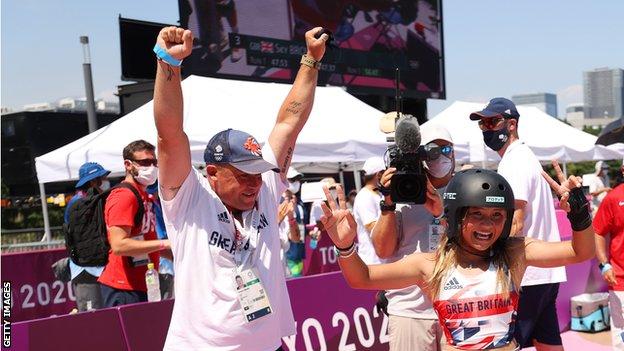 Brown's dad Stu is English, but moved to the United States in his teens. He and Sky's mum Mieko met in Japan, where both Mieko and Sky were born and the family – which also includes Sky's brother Ocean – are now based.
The Browns split their time between California and Miyazaki.Their American residence is Oceanside, about 35 miles away from San Diego, but Sky's first language is Japanese.
Skateboarding runs in the family. Stu first introduced his daughter to the sport while competing as an amateur, balancing his work in marketing.
Sky has never had a skateboarding coach and learns her tricks from YouTube. Her first Olympic qualifier was in Long Beach when she was 10.
'Skateboarding has won' – analysis
Tim Warwood, BBC skateboarding commentator
"Look how good that was. That was amazing. Sakura Yosozumi – what a run. What a standard of skateboarding. It was nothing short of brilliant. Kokokna Hiraki is 12 years old. She can't even legally buy a lottery ticket.
"Then you've got Sky Brown coming out at 13, showing the pressure and composure of a 50-year-old. Having that mental resilience to fall not once, but twice, and then to go in on your third run and try it again. The fact she's 13 and has been able to do that is nothing short of incredible. It's unbelievable, it's so brilliant and just incredible stories across the board.
"I hate to say this but I'm going to say it anyway. Skateboarding has won. It has come to these Olympics and both the street and park disciplines have been brilliant."