The Football Association of Ireland and the Republic of Ireland women's team manager Vera Pauw have apologised for a pro-IRA chant sung by players after the World Cup play-off win over Scotland.
Video emerged of the Republic of Ireland women singing a pro-IRA chant following the World Cup play-off.
"We apologise from the bottom of our hearts to anyone who has been offended by the content of the post-match celebrations," said Pauw.
Pauw added there could be "no excuse".
"We will review this with the players and remind them of their responsibilities in this regard," continued the Republic of Ireland boss in an FAI statement.
"I have spoken with players this morning and we are sorry collectively for any hurt caused."
The footage showed team members chanting the pro-IRA slogan in the Hampden Park dressing room following their 1-0 win after Amber Barrett's goal earned the side a place at next year's finals in Australia and New Zealand.
Speaking later to the media, the Republic manager acknowledged that the controversy has "taken some shine off" of the team's achievement in qualifying for a first major tournament.
"We need to accept that," added the Dutch woman.
"This is something that goes very deep into the history of Ireland. As soon as you hurt people, you do something wrong and we've done something wrong here."
Pauw insisted that the release of the footage on social media by one of the squad was not the core issue, adding the player "was devastated and crying in her room".
"I don't want to hide behind that because it she hadn't put it on social media and I had been notified about it and the significance, then I would have addressed it immediately.
"I've also told her that putting in on social media is not the biggest thing.
"The biggest thing is that is has happened. It doesn't matter if you are in private room or a dressing room or if you are outside."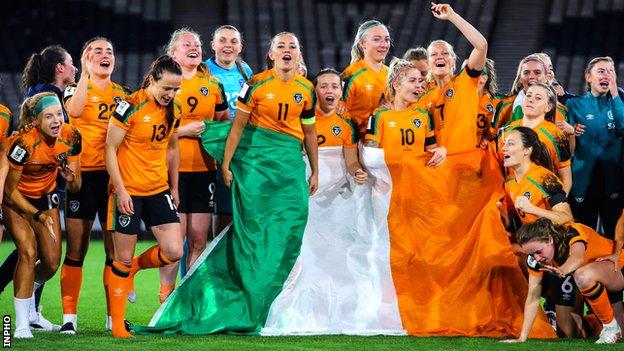 Squad member Aine O'Gorman said the players wanted to "reiterate" the manager's apology.
"We'd like to apologise for that for anyone that was offended," added O'Gorman.
Her team-mate Chloe Mustaki added that the players were "extremely sorry for the hurt it's caused".
"A lapse in judgement in the moment. We're extremely sorry and hopefully we can move past it," added Mustaki.